This post covers the first preview screening event of the movie, interviews prior to the movie's release, and many miscellaneous info.  Director Hishida Masakzu and Avex Producer Nishi Hiroko have been doing lots of interviews the days before June 10 to promote the movie. The characters' seiyuu too. I've included promotional screenshots of the movie published before release day on June 10. Lastly, I also included the translation of the letter Director posted on twitter shortly before the movie released.
Kinpri1=KING OF PRISM by PrettyRhythm
Kinpri2=KING OF PRISM -PRIDE the HERO-
Ouenjouei=screenings of the movie when you can come cosplayed, dub over lines, scream&cheer and use glowsticks. I sometimes translate it as "cheer screenings".
Preview Screening Events:
People who bought the area specific versions of the Duo Units CDs could participate in a lottery to be able to attend a preview screening of KING OF PRISM -PRIDE the HERO- in that area. There's 5 area specific Duo CDs sold across Japan and each one had a lottery for a preview screening in that area. There was 5 screenings like that in total, but also other screenings for press, like the one for Newtype Magazine which I mention later below.
The first preview screening event of KING OF PRISM -PRIDE the HERO- was in Tokyo on May 17, at Wald 9 theater. Before the movie started, they did an around 20 minutes long staff greeting. Multiple JP news site wrote about it and Maidigi posted videos of it. Thanks to that I could easily do a summary:
KING OF PRISM -PRIDE the HERO- 1st Preview Screening Event, May 17:
Staff present were Director Hishida Masakazu, Terashima Junta/Shin and Takeuchi Shunsuke/Alexander. While most of the information regarding the event was confidential and sent directly by mail to the lottery winners, they didn't announce beforehand they would be there and it was a surprise.
Terashima says that the relationship between Shin and Louis devellops into an even bigger showcking way that what they show in PV2. speaking of that particular scene(where it seems that Shin and Louis kiss), he says when the PV was out, he was surprised it was included and he didn't think they would show that. Director says that's he actually specifically asked the promo staff who makes the PV to show this scene.
Takeuchi says that this time too Alec does amazing stuff during Prism Shows, to the point where he wonders if even elite fans who were trained with Kinpri1 won't be overwhelmed. He says it's like you'll be hit by punches all over your body. Director says maybe people will feel a lack of oxygen from how awesome it is.
Director says when working on it they initially went way over the time the movie is supposed to be,  he worked on the movie until the last minute, editing it to make everything fit in.  In fact, he was still working on it the day before the event. He says that when watching, it's possible the rate of which you understand things will fall behind the rate of which things happen on screen. But he's proud of the result, thinking he did something good and that there's not a single useless part. He says to please watch the movie with your eyes wide open and with full attention.
Because he heard how some fans saw KING OF PRISM by PrettyRhythm/Kinpri1 more than 100 times, he also took this into account when working on KING OF PRISM -PRIDE the HERO-/Kinpri2/Kinpra and tried to make it into a great movie you can watch at least 100 times without getting bored.
After that they start talking about Takadanobaba George. When the MC mentions him the audience start thinking Sugita will appear on stage but she sadly announces he actually isn't present. Takeuchi says that when George was announced, Sugita sent him a LINE message saying "hey, I'll be appearing in the same anime as you" and when Takeuchi asked him what kind of character it is Sugita answered"it's a really peculiar guy".  They comment on how Sugita is one of the first famous person who went to see the movie and advertised it. Takeuchi says it was fun recording together and he's looking forward to people's reactions to his character and to seeing it himself as well. Terashima says Sugita improvised a lot of lines too. Director says it has been decided at a pretty early stage Sugita would voice a character in Kinpri2, so it may be that he made George with Sugita in mind. It's a bit difficult to say whether George's was written first or Sugita participating was decided first. Terashima says there was a time when Sugita was watching Takeuchi recording, and he said "Just what is this movie making youngsters like Takeuchi do". Takeuchi said at this point it's abit late to say this. Among the commenst he did during the recording, Sugita also said George is a nice person. Takeuchi ends by saying George is different from all the Prism Stars in past Pretty Rhythm works so far so we should look forward to discovering him.
There was a press release on May 31 which spoiled one of the reasons why George is different, highlight to see: He's a playback idol and doesn't actually sing, his ghost singer is  voiced by Kobayashi Tatsuyuki. This means  Sugita didn't sing. spoiler end
After that, they started talking about the other new characters appearing in the movie Spoilers, highlight to see:
Horiuchi Kenyuu is voicing Kazuo/Kakeru's father, called 王院百次郎百次郎/Jyuuouin Hyakujiro. Kazuo means "first son", so his father is "hundred". Horiuchi Kenyuu is a big senpai at Terashima's seiyuu agency so he was happy voicing with him; He's also the one who did the narration for the PVs. Director said once you hear a certain line of Hyakujiro you'll never forget it. Director worked with Horiuchi in the past on Dinosaur King.
Miyake Kenta voicing Tanaka, president of the Prism Show Association. Yes, Tanaka as in Yamao Yamada of RL universe. (Miyake Kenta voiced both Yamada and Penguin Sensei in ADMF). Miyake always stayed in contact with Director and Director feels something is  truly "pretty rhythm" when Miyake's voice is in it. (this last part is from the director june 7 getnews interview linked later below)
Yamadera Koichi voicing Yukinojou's father, called太刀花菊右衛門 /Tachibana Kikuenmon(not sure about the way his name is read). Director Hishida says he's not the one on the staff who requested if Yamadera could voice a character. (I guess it's either producer Yoda or producer Nishi). He says the person who asked if Yamadera could participate in the movie did so because they thought Director would be happy about it. Yamadera is a veteran who already used to do voice acting back when Director was still a newbie, so working with him made director very nervous and sweat a lot. He actually already worked with him in the past, as Yamadera Koichi was voicing the Yattermechas in the 2009 Yatterman movie which was directed by Hishida san.  Kikuenmon is a very strict father as expected of a kabuki actors family, so as opposed to Yatterman, Yamadera's role is quite serious this time.
Yusa Kouji is voicing Sanada Joumu, an executive officer in Jyuuouin zaibatsu and Kakeru's rival in the company. (In the past I did say he's part of Kakeru's company, but when initially writing this post and on Twitter I mistakenly translated it as him being in a rival company of Kakeru's.) Yusa san is the one they actually wanted in order to voice Jin back in Rainbow Live, but his schedule was too tight and he couldn't make it. That's why they brought him in for a new character this time.
Spoilers end
Takeuchi said it was an honor voicing with such veterans seiyuus, he's thankful to the fans who made Kinpri huge enough for this to happen. Terashima said it's thanks to everyone's support they could get such huge veterans seiyuu. They all say you can see how much more budget they have now with how they got these veterans seiyuus, and just one glance at the movie will show you how much the budget got a power up. It's thanks to everyone who supported the movie.
After that, Iwai Yuuki, comedian part of the Haraichi duo, joined them on stage,. Seems hes' a big Kinpri fan and advertised it a lot on twitter and his radio show. Just like Sugita he's one of the first famous persons who advertised it.  Iwai san said he discovered Kinpri when a friend told him about it, his friend's explanation made no sense so he decided to check it out&was amazed. Iwai says he wonders how Director can make such weird things,  director answers he just did it the way he normally does thing, he didn't aim for it to be weird.
Director says the movie is 70 minutes long. 69 minutes to be exact. He says it's only 10 minutes longer than the previous movie but it's really packed with content.
(I thought it was longer judging from how the storyboard is three times bigger.)If it's only 1H10 they'll have no problems doing ouenjoueis/cheer screenings for it. I was worried before that if the movie is like 2hours long they would only show key scenes and prism show scenes during ouenjouei screenings and skip the rest)
After that Terashima said Shin's line"みんなに、言いたいことがありまーす!" and everyone did the usual "NAAAAAANIIIIIIIIII~~?". And he announces Kinpri2 will be shown in Korea, Taiwan and Hong Kong.
Director says he hopes it'll expand to the world, and he's very curious as to what people around the world would think of Pretty Rhythm.
They said a few more things after that but nothing noteworthy and then the staff greeting ended and the movie started.
On news sites reporting about this first Preview Screening Event, they also said it'll be released in Korea the same day as Japan: June 10. It'll get released in Taiwan and Hong Kong a bit later. And that they're currently in talks for screening in USA and want to bring it to EU as well.
「KING OF PRISM PRIDE the HERO」の完成披露試写会にサプライズで登壇させていただきました!今はただたくさんの人に観てもらいたい気持ちでいっぱいです!6月10日よ、早く来てくれ! https://t.co/HnhiqzVa1o—
寺島惇太 (@juntaterashima3) May 17, 2017
Twitted by Terashima after the event.
Not really a spoiler: As I guessed, the voice in PV2 is indeed Chiba Susumu. Fans on Twitter confirmed he's voicing a character in the movie. I haven't dug further though, so I don't know if he's voicing Jun of the RL universe or an entirely new character. I'm really hyped for this.
Note, I "accidentally" saw these spoilers because news sites reported it. Unlike Kinpri1, I'm not gonna post spoilers for Kinpri2 and will try to not spoil myself until I can see the movie. Covering news past June 10 while avoiding spoilers will probably near impossible though, and I'll probably end up getting spoiled. I guess that's what it means to play journalist.
I really hope the offer they got to screen in USA will go well and Kinpri and Pretty Rhythm gets popular. I hope it gets screened in EU & France too. Would be awesome. I wish I worked in an anime/manga licensing company to release it here myself. Along with all the manga I wish were released here, like Rain, etc.
On May 28 there was a Preview Screening Event for newtype magazine reporters . This person on twitter was there and wrote their impressions on the movie. There's spoilers so I saved it and keeping it for after seeing the movie.
Source TokyoMX will broadcast KING OF PRISM by PrettyRhythm on June10 in a special program titled "Its not too late to learn everything about Kinpri!". It'll be Kinpri1's first broadcast on TV and they'll also show the first 8 minutes of KING OF PRISM -PRIDE the HERO-.
On June 6 they launched a new page called the Schwarz Rose Entrance Exam, it gives you your rank in the school depending of your tweets. Tweets including "pretty rhythm", "pride", "prism show", "hiro" etc are  "Glorias Schwarz tweets", they increase your rank and determine your stats. Schwarz Rose Commander Norizuki Jin hopes you will strive to attain the Rank A "Supreme".
This is pretty clever to advertise the movie as it'll make Pretty Rhythm related terms trend on Twitter.
https://twitter.com/noronoro7/status/872031773047242753
The various error pages have Jin saying one of his now legendary lines.
https://twitter.com/aobajo/status/872675125144862720
Two days before the movie's release, director published this message on Twitter. I was a bit anxious when I first saw it as it reminded me of the nico live before Kinpri1 was released where he announced the movie doesn't show all the story and doesn't have the Prism King cup, but this time it's a much more positive message. I tried translating it:
Comments by the staff who initially launched the Kinpri project published on the official site on June 9:
Director Hishida Masakazu: "the stage greeting on June 10 at Wald 9 will be the first time since Kinpri1's premiere that all of the character's seiyuu and myself will be together at an event. It might be the last time this happens, so be sure to not miss this historical moment by going to the theaters throughout Japan. doing a live viewing of the event."
Tatsunoko Producer Yoda Ken: He thanked the fans for making this possible, saying he has no regrets now.
Avex Producer Nishi Hiroko: She says she recently took a look at pictures of the Edel Rose Entrance Ceremony from 2015(where they announced Kinpri1) saying their feelings haven't changed since then. She wants to show to the whole world how awesome Prism Shows are.
The day Kinpri2 released, June 10, they announced an event for October 21 2017: KING OF PRISM SUPER LIVE MUSIC READY SPARKING. It'll happen twice the same day(like the SEptember 2016 event) and will be one hour long. Multiple seiyuus will participate but they haven't said who yet. If I got it irght, it seems the only way to get tickets for it for now is to go see KING OF PRISM -PRIDE the HERO- 5 times.
On release day, Sugita tweeted "Takadanobaba is hot"
Screenshots published pre movie release:
source 3 new pics of KING OF PRISM -PRIDE the HERO- showing more of Louis' Zettai Idol☆Ai・N・G , George with his unit The Shuffle.
source New screenshots showing Schwarz Rose building interior. The dragon thing that reminded me of dragon mirror in Shenmue is actually inside Jin's commander office in Schwarz Rose. There's also 2 other big things. I don't know what's the thing in the middle but the right one looks like a white tiger. So I guess it's Seiryuu, Suzaku and Byakko? There's no Genbu though, maybe we can't see it in the picture's POV.
Interview summaries
On  May 17, Director tweeted he's taking a break from twitter, and only came back on June 7. He was busy with the promotion of KING OF PRISM -PRIDE the HERO-. He's been doing a lot of interviews these days. Avex producer Nishi Hiroko as well. The seiyuus too are often on radio channels to promote the movie.
Below are short summaries of these interviews. Sometimes I've purposely left out info because it's things I already reported in the past, for example all the troubles they encountered for Kinpri1's production, how they put their jobs on the line  etc.
Warning: These interviews contains small spoilers for KING OF PRISM -PRIDE the HERO-
Source interview of Terashima:
Shin kun looks like a typical happy straightforward hero, but Kinpri 2 has a scene showing his past and negative feelings he used to have, like frustration. (Remember before Kinpri 1 was released they said Shin was in the soccer club in his previous school and they lost in a very important tournament prematurely, will probably be related to this). It may be a bit shocking compared to how he seems now.
KING OF PRISM by PrettyRhythm was the first anime in which Terashima played the main character, so he's really happy to have been part of it. Kinpri gave him many opportunities to participate in stage greetings, events, etc. He also thinks Kinpri 1 is a very important step for the future of his voice acting career. The fact that it's a miraculous work which quality was praised by both anime fans and professionals in the industry, initially starting at only 14 theaters and expanding thanks to word to mouth, makes it so he'll surely get new opportunities in the future as the one who voiced the main character.
He adds that Kinpri changed his private life as well. He learned to be at ease speaking in front of large crowds thanks to participating in Kinpri events. In order to always bring up his best at work and not disappoint Shin kun's fans,  he started paying more attention to his physical appearance and sleep time. In the past, he never really cared about his hairstyle & fashion and his sleep schedule was messed up. He thinks about those times with a bitter smile now.
For Kinpri 2, he was able to voice Shin kun very naturally and without being nervous, because between Kinpri 1 and 2, he had many opportunities to voice Shin kun with the events etc, compared to when voicing Kinpri 1. He's looking forward to watching the end result when KING OF PRISM -PRIDE the HERO- releases on June 10.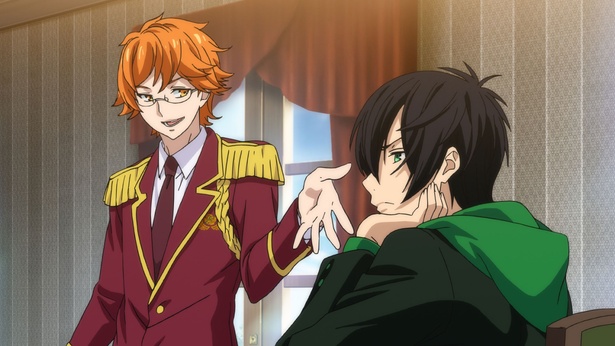 Source Interview of Hatanaka Tasuku/Taiga and Yashiro Taku/Kakeru after their stage greeting at the KING OF PRISM -PRIDE the HERO- Preview Screening Event in Osaka on May 20:
Yashiro says there's a scene with Kakeru and Sanada Joumu during a Jyuuouin zaibatsu meeting, and Kakeru makes a really funny face in that scene, which kept making everyone in the staff laugh. It's really funny because the scene is really serious and tense before it. Just speaking about it during the interview made Yashiro and Hatanaka laugh. (Joumu is Kakeru's rival inside the company). In that scene Joumu says tons of complicated things to Kazuo, so Yashiro asks everyone to support Kazuo during that scene and to scream stuff like "ganbatte Kazuo!". Yashiro and Hatanaka specifically uses Kakeru's real name "Kazuo" in that part of the interview and says that for this scene you should encourage "Kazuo", not "Kakeru". They keep chatting about what kind of cheers the elite fans will invent for Kinpri 2 ouenjoueis/cheer screenings, and Hatanaka says there's a particular scene which says on the script "Minato is laughing but his heart is actually crying" and he hopes that for that scene the phrase to scream that the fans will do is "りんごとはちみつ"/"apples and honey". He says you'll get it once you see the movie. Because of how Kinpri1 turned out, they're both really looking forward to what kind of phrases the fans will decide to scream for each scene during ouenjoueis.
In Kinpri 1 it's obvious that Taiga admires Kazuki senpai but is a bit tsundere about it. This will be slightly different in Kinpri 2. In Kinpri 1 Taiga is frustrated because there's a difference between Kazuki which he admires and himself, always chasing behind him. But in Kinpri 2 Kazuki renews his resolve as a man, which leads to Taiga changing as well. Taiga thinks of what he can do to help OTR reform so Kouji Kazuki and Hiro can do Prism Shows together again, he decides to face his responsibilities and aims for the Prism King Cup.
In Kinpri 2, Kakeru shows more of his businessman side, supporting Taiga from the shadows. Yashiro thinks their relationship is really good. Edel Rose is Kakeru's special place, the only place where he can be himself. And the 'living beings" inside Edel Rose are important to Kakeru too. Kakeru saw how horrible adults can be right from his childhood, so seeing someone honest and pure like Taiga is really fun to him. He really appreciates Taiga and really respects him as well.
Yashiro says the movie is captivating from its first second to the last 69th minute. He especially wants you to pay attention to how Hiro's emotions are depicted and he thinks it's one of the best parts of the movie. Especially the scene with Hiro and Yuu, and the scene where Hiro fights against Kouji. Then he also wishes everyone pays close attention to the Edel Rose students, which whom all show a new side of their personality in the movie.
Hatanaka says he's really looking forward to the ouenjoueis/cheer screenings for Kinpri2. He went to some ouenjoueis for Kinpri1 with his friends and wants to do it again. He says during a kinpri1 ouenjouei, he screamed and singed a lot and shouted Taiga's lines but no one noticed him, so he wants to scream even more for Kinpri2. Yashiro jokes that if you actually notice Hatanaka is in the audience you should ignore him.(to not cause a commotion). Hatanaka says that the movie is so awesome, it would make the fact that he's in the theater with you trivial in comparison. And that when the movie ends, even if he passes right near you you'll be too busy screaming HIRO SAMA to notice him, so everyone should have fun and he'll be able to enjoy the ouenjoueis with everyone without troubles.
Source Another Terashima interview:
Terashima mentions how surprised he was when the first movie became a hit. He mentions how awesome it was to see there's fans all over the country, go to the different stage greeting with Director to meet them, and how they could enjoy the food of each region too, and his weight kept going up and down.
They talked a lot about these stage greetings during the KING OF PRISM by PrettyRhythm Prism Elite Meetings. I wrote reports on 2 of them:
second one
third one
They also got tons of letters, from people saying they got more positive and started being motivated for their exams or work after seeing the movie, or some people saying they want to become voice actors. Terashima says he wanted to become one after seeing anime himself so he's really happy about it.
He says that when recording his Prism Shows for Kinpri2, sound Director Nagasaki Yukio would tell him "more!! put more into it!!" while he was already sweating, so the Prism Shows are even more awesome now. He also says Pretty Rhythm Director Hishida Masakazu is a genius for making such good works.
Source.  June 6: New interview of Avex producer Nishi san and a new poster of Hiro&Shin in Cho Animedia:
Not that she was dissatisfied about it, but Nishi san mentions at some point when they were planning Kinpri, she wanted the characters to be more "idol like". With tall builds and ultra handsome, like most male idols productions aimed at girls. (One thing I like about Kinpri is that it's not like that. While it's true the characters are hair color coded like most anime, they don't look bland at all). She says while laughing that Director Hishida didn't want that, and wanted to make it so "everyone" can enjoy the movie, not just girls. She says he always says he wants to make things for "everyone" and this is true for the first Pretty Rhythm series as well, which includes many elements from various genres including intense hot blooded shonen like scenes.  She says that for Pretty Rhythm Rainbow Live, there was an equal amount of male and female fans. This is why it's important to mention how the Pretty Rhythm characters are "Prism Stars" and not "Idols". Prism Stars compete against each other during tournaments, and the biggest tournaments in  Pretty Rhythm are the Prism Queen Cup and the Prism King Cup. In the Rainbow Live universe, they both happen once every four years. Still in Rainbow Live, the tournaments including the Queen/King Cups shown in the show were all named "something Session", and Kinpri 2 features the long awaited hot blooded Prism King Cup, so they decided to name it "Thunder Storm Session". (The Prism King Cup they show in the Rainbow Live flashbacks was named "FLY! Sky High Session")
She says that for Louis' Prism Shows, they tried to make it as beautiful as Juné's shows. (Please don't post spoilers in the comments) She also implies that characters without new jumps/Prism Show in the movie will have their own jumps in the Kinpri Prism Rush Live mobage so you should try it.
About ouenjouei, she says there might be scenes people will want to dub over in the movie, but won't be able to as it'll be too hard for non seiyuus. But she says there's also fun and easy to dub scenes, like the one where the Edel Rose students count "1,2,3,4" so it'll be fun. And you can do specific actions if you want, like using your own Shuraba Taiga fan when Taiga uses it in the movie. That was specifically made because it's easy to mimic.
They made this picture of Hiro and Shin together because they actually don't have a lot of scenes together in both movies.
Directors wanted to depict a lot of realistic scenes with the boys living together in the dorm. Eating together, bathing together during bathing hours etc, the things that will make some girls go "kyaaa" and which will be also enjoyed by males as well, seeing something they probably experienced themselves.
About Shin, she says he's a character that's still growing and he might be changing. It's possible people who watched Pretty Rhythm from the start will figure out something about him.  Director once said he can't start writing everything about Shin and Louis or their story won't be finished until the Tokyo 2020 Olympics.
In Kinpri 2 the audience cheers are all improvised by the seiyuus. It's been like that since Pretty Rhythm Aurora Dream. They had a lot of fun doing it and it helps relieve stress. When Kinpri 1 was released, the female seiyuu told them" if the sequel happens, call us to do some audience cheers", so the audience cheers in Kinpri2 are all female voices.  She says the audience cheers come from the back speakers when watching the movie in cinema, so if you want to hear them clearly you should seat at the back of the theater. She doesn't recommend trying to identify which scream is which seiyuu though, or you might be disillusioned as they screamed things that can be considered as foul language. There was a lot of improvisation for the lines said during Prism Jumps. Takeuchi san improvised the English lines Alexander says.
There's also a scene with Shin which was initially without dialogue, so Terashima asked Director if he should add something, and Director told him to say a particular line, but Terashima didn't know the reason. That line is "I'm reborn", said in AD 50 by Mion. That line was actually improvised by Enoki Azusa san, and Terashima didn't know about it, nor that Enoki Azusa san was actually outside the booth when Terashima was recording inside,  so when he was told later it was really funny. Terashima thought it was amazing how the line was inherited  and thought this kind of thing is the charm only Director and Pretty Rhythm can do.  (Nishi san doesn't mention it's the director who told Terashima. it's info crossed  with this Terashima interview linked later below, and with how Azusa san tweeted about it in May, see May News post)
There's tons of scenes and small things like that that only people who saw the series since Aurora Dream can enjoy. Another scene is when one of the characters says "もう失神してしまうのでは?" this will make old fans happy too. (forgot who said this in past seasons)
The inside story behind the duo CDs and how each Duo was in a different place in Japan, is that Hijiri sent them all to promote the Prism Sparkle across Japan. After that she talks about the relation between each duo character, doesn't say anything you can't deduce yourself. Only interesting part is she says Hiro and Yuu are te only characters duo which were both already present in Rainbow Live, and that Yuu understands Hiro well and the only one at Edel Rose who understands his painful feelings. Yuu is the only one who's also both linked to Kouji and Bell. Yuu sees hiro as his rival in love with Bell and but also learns to respect him.
In conclusion, she says there's alot of people who still don't know Kinpri or Pretty Rhythm but it's ok to go see the movie anyway. It'll be like a Jet Coaster and even if you're surprised or don't understand everything it'll be fun, and you'll want to learn and watch everything about the franchise.
Source interview with Director Hishida Masakazu, from June 7:
Part of the reason why they put in that preview/epilogue at the end of Kinpri 1 was that if they never manage to make the sequel, people could still imagine a bit what would happen,without showing everything on purpose so people still want to see what happens next.
About the dubbing, for Kinpri1 there wasn't many characters and every seiyuu was busy so they mostly recorded separately. For Kinpri2 they had the occasion to dub with everyone together so it was more enjoyable. And the seiyuus were now accustomed to the world of Pretty Rhythm so they could get into it easier.
The movie is very condensed and full of things happenings at the same time, because he didn't want to cut any scenes and crammed everything in. So he hopes you'll go see it many times and buy the DVD when it's out to see it again and again while pausing the scenes. Initial time limit they were allowed was a 60 minutes movie, but he went over up to 77 minutes, and after negotiations they were allowed to do 69minutes, and he edited the scenes to make everything fit.
He's very happy the movie's release date in Korea is June 10 as well. There's many people who enjoyed PRRL in Korea when it aired there. While he didn't think about what non Japanese people like when making the movie and didn't get influenced from that, he'll be happy if tons of people enjoy it around the world and looking forward to their reactions.
He can't choose a favorite jump among the new ones in Kinpri2, but there's one that was made by Kyougoku san that's a new concept that wasn't done before in the series, he thinks it's really fun how Kyougoku san can directly bring out emotions when he designs Prism Jumps ideas.
He was really surprised when it turned out Yamadera Koichi was contacted to voice in the movie, asking "do we have enough money?" as he thinks Yamadera is pretty pricey.
Source Interview of Hatanaka Tasuku published on June 7:
He says he only got in Pretty Rhythm starting Kinpri1, so he admits he doesn't understand everything and for Kinpri2's dubbing of Taiga he communicated closely with Director to be sure he got everything right. He says Director is something who thinks 5 steps ahead so it was hard keeping up.
Part of the reason why Taiga is a loner is because he didn't come to Edel Rose to make friends but only to perfect his Prism Shows. That's why he has a good balance with Kakeru who likes to bother people.
He says he wanted to set a bit of distance with the other seiyuus during dubbing to feel more like Taiga, but it's impossible since they're all around the same age and get along so well, they go out play&drink together a lot.
The scene that left the biggest impression on him on Kinpri 2: spoilers, highlight to see: there's a scene where Taiga acknowledges his own failure and apologizes to Kazuki senpai, it moved him to tears. spoilers end
Dubbing sessiosn for the movie were really intense, he screamed and sweated a lot and had to drink a lot. His voice was exhausted. Especially since Taiga, Kazuk and Alec are Street Style Prism Stars and htier Prism Shows feel the most like battle shonen. It felt as if he ran a marathon.
He really respects Masuda Toshiki who plays Kazuki senpai. How he always puts everything he has in his acting, it gives him courage when watching him act. He thinks their relationship is similar to Kazuki and Taiga. There's also other seiyuus he respects a lot, like Irino Miyu who really helped him when he started anime voice acting, Utsumi Kenji(Raoh, passed away in 2013) and Nomura Michiko, who are both in his seiyuu office (Ken Production). There's many veterans seiyuus he admires but ever since working with him on Kinpri1 he feels closest to Masuda Toshiki. He thinks they're both the same type of voice actors, the type who look at things from a theory point of view, and always ask themselves "why is the character saying this? How do they feel? Why did this development affect them?" etc.
About what he does recently: he really enjoys travelling, he went to a trip to Ishigaki Islands with Yuki(Kaji). If going abroad, he'd like to visit Cambodia, Thailand, Vietnam and especially India.
Source Another interview of Terashima Junta:
Since voicing Shin, he's getting more offers to voice teenagers, before Kinpri he'd usually only voice mid-20 men.
He made a LINE group containing not only the other seiyuus but the staff as well. They all get along really well.
About what he does recently, he says a certain "school idol" app (love live game I guess) was introduced to him by some of the Kinpri staff(Maybe Love Live Director Kyougoku san) so he installed it and started it, but he doesn't understand it much.
sourceAnother Terashima interview:
Dubbing for Kinpri2 was spread over 3 days. Most people recorded their lines on the first day, but Terashima was present during two days so he had the opportunity to meet most of the seiyuus.
He was ultra excited when he heard Kinpri2 was greenlit.
Another report of the stage greeting during the Newtype Preview Screening:
One interesting part is that they talked about how they make the Prism Jumps. This isn't the first time they talk about it and I already covered info on it many times but it never hurts to remind it. Most of the jumps ideas and names are first made by Katou Daisuke san, who works on the Arcade and console games at SynSophia. Then he sends his ideas to Director and if he likes it, they talk about it more in detail with CG director and the others. Some of the staff thinks Prism Jumps up during  meetings too. For example, the "Shuraba Gaeshi Zero" Prism Jump that Taiga does in Kinpri2, both the name and the idea of using a giant fan was born from a remark said by Assistant Producer Oigawa Satoshi san(大井川聡). This same Oigawa san also thought up one of Louis's new Prism Jump. Talking about it, Nishi san said "the first time I saw that jump, I didn't get it", then CG team member and Prism Show storyboarder (and Love Live director) Kyougoku Takahiko explained it to her, but she still didn't understand it at all.(I think the jump they're talking about is what Director is referencing in the above interview, when saying Kyougoku san did a new Prism Jump whose gimmick was never seen before in the series). Director Hishida san said "I know the true meaning behind that jump, but it's something that cannot be said in public" so you should look hard for its meaning yourself.
When talking about The Shuffle, Nishi san said "how they all say their technique's name differently is what's makes it so fun". It's also to display how they have no unity as a group,
About Alexander's family composition, director said it's not something they set in stone, but there's a scene in Kinpri2 which lets you imagine the possible composition of Alec's family and make theories about it. They also said Louis eats as much as 4 persons.
Asada Nikki participated in the event as a special guest. As I already reported before, she's one of the many mangaka fans of Kinpri. She said she saw Kinpri 1 over a hundred times, and she's euphoric to finally be able to see the sequel.
Source Terashima interview
Terashima wanted to get into the anime industry after seeing anime himself. He first wanted to become a mangaka or animator, but figured out it wouldn't work and then joined a vocational school to become a VA. He enrolled in the Department of Voice Activity and Theater of Nippon Engineering College Creator's College. HE says a lot of people dropped out early because of the embarrassment from acting in front of others, but he really liked it. It's thanks to his school that he could join his current agency.
Fukuoka advance screening event with Terashima&Uchida and interview with them. This is all in English already.